Lazio Region Business Hub – the Gateway to the Arab Market for Lazio Companies
March 7
@
10:30 am
–
12:30 pm
10.30 a.m. (Dubai time) – 7.30 a.m. (Italian time)
Awaj Ballroom,
Grand Millennium Hotel,
Marasi Drive Street, Business Bay, Dubai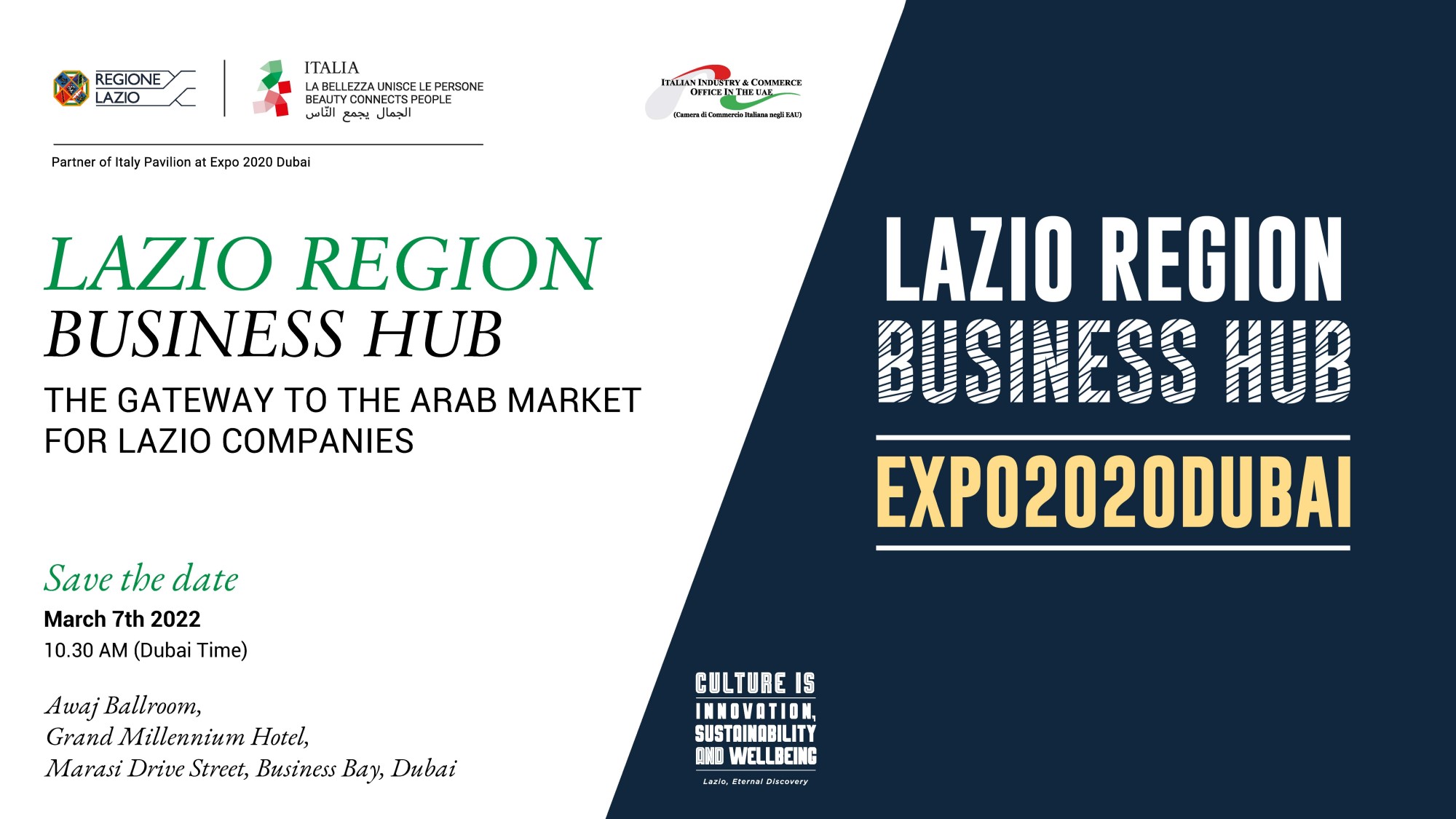 Presentation of the Country System of the seven Emirates that make up the UAE – United Arab Emirates, macroeconomic data and trends in terms of trade and international cooperation between Italy and the Arab world.
Meeting with the Board of the Chamber, with the representatives of the Italian economic bodies present in Dubai and with a selected representation of Italian and Emirati companies operating in the territory.
Illustration of the activities underway at the HUB and initial results of the activity of accompaniment to the internationalisation of the Lazio system.
AGENDA
Welcome
Quirino Briganti, Coordinator EXPO2020DUBAI Lazio Region
Institutional greetings
H.E. Sheikh Mohammed Bin Faisal Al Qassimi, President of the Dubai Chamber of Commerce & Industry
The economic-productive context of the United Arab Emirates
Amedeo Scarpa, Director of ICE Dubai Office
Mauro Marzocchi, Secretary General of the Italian Chamber of Commerce and Industry in UAE
Maurizio D'Andria, Head of UAE, Middle East and North Africa SACE
Lazio's economic-productive and innovation ecosystem
Paolo Orneli, Regional Minister for Economic Development, Trade and Crafts, Research, Startups and Innovation of Lazio Region
Lorenzo Tagliavanti, President of CCIAA of Rome
Angelo Camilli, President of Unindustria VIDEO
Comparing experiences with representatives from the Emirati world
Stefano Campagna, Vice President of the Italian Chamber of Commerce and Industry in UAE – Managing Director, Sharaf Future Trading LLC
Rekha Setpal, Head of Program and Partnerships In5
Piero Ricotti, Director of the Italian Chamber of Commerce and Industry in UAE – Managing Director, Tecnosistemi FZ LLC
Final Remarks
Nicola Zingaretti, President of Lazio