Forum: Blue Economy. From Subsistence to Innovation Poles. Focus on the Pontine Islands
March 30
@
5:00 pm
–
7:00 pm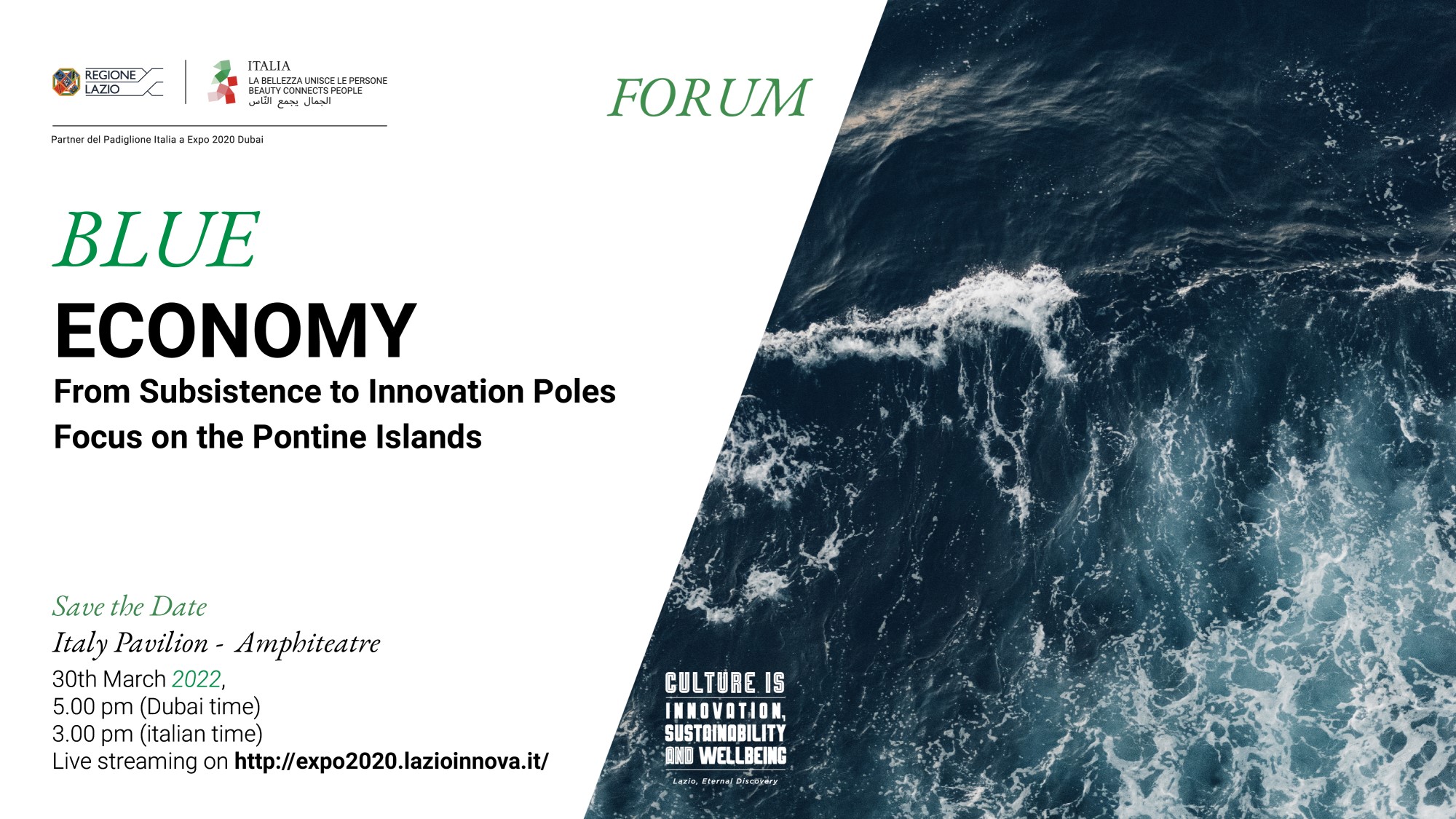 A fascinating micro-world in transformation from a marginal reality to a model of sustainable development and enhancement, through a project park implemented with proposals from research organisations, start-ups and Italian and foreign players in the sector.
AGENDA
Welcome and Introduction
Quirino Briganti, Coordinator EXPO2020 Dubai Regione Lazio
Institutional greetings
Paolo Glisenti, Commissioner General for Italy at EXPO 2020 Dubai
Moderator: Valentino Giuliani
Speakers
Gerardo Stefanelli, President of the Province of Latina "Innovation and planning of large area".
Giovanni Caprino, President of the National Technological Cluster Blue Italian Growth – "The opportunities of the PNRR and the National Research Plan"
Gianni Gargano, Vice President Assonautica "Marinas and sustainability"
Maria Vittoria Struglia, Enea Climate Modelling and Impacts Laboratory "Interreg Med Blue Deal Project"
Alessandro Iafrati, Director of the CNR Sea Engineering Institute "Energy sustainability of islands".
Elvira Buonocore Conisma, "Environmental accounting: the case study of the island of Ventotene".
Chiara Petrioli, Start Up Wsense srl "Internet underwater, real-time enablement of continuous monitoring for the blue economy"
Raffaele Rognoni, Portofino Marine Service "Sustainability of tourist marinas and recreational boating".

Paolo Orneli, Regional Minister for Economic Development, Trade and Crafts, University, Research, Innovation and Start Up of Lazio