Lazio, Smart & Green Health. From smart healthcare management to the virtualisation of care. The new frontiers of health and the digital models of Industry 4.0 and Digital Twin
March 29
@
6:00 pm
–
7:30 pm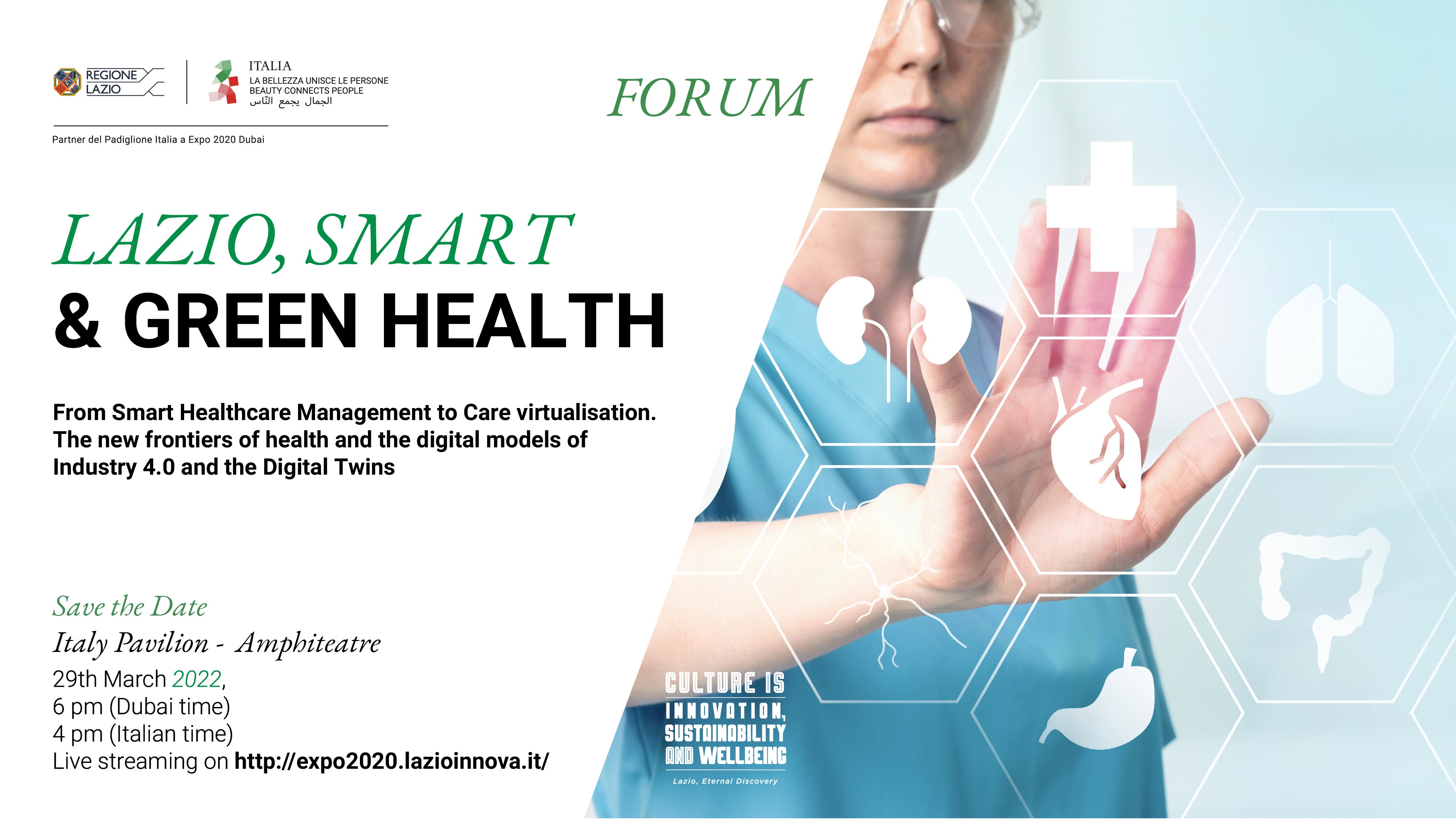 The Forum intends to present Lazio as a territory in which the development of Smart & Green Health is strong, in terms of virtualization of care, emergency management, energy efficiency and reduction of environmental impacts, technological innovation and process optimization, automation, digitalization and integration of the offer of health and tourism services.
AGENDA
Welcome
Quirino Briganti, Coordinator EXPO2020 Dubai for Lazio Region

Institutional greetings
Marcello Fondi, Deputy Commissioner
Giuseppe Finocchiaro, Consul General of Italy in Dubai

Keynote speaker
The intersection between telemedicine and artificial intelligence
Alberto Eugenio Tozzi, Head of Multifactorial and Complex Diseases Research Area President of the International Society for Pediatric Innovation Bambino Gesù Children's Hospital Rome – Italy

Moderator
Michelangelo Bartolo, Medical Director of Local and Hospital Telemedicine – Lazio Region

Speakers
Digital Health in Lazio
Michelangelo Bartolo, Medical Director of Local and Hospital Telemedicine – Lazio Region
The future of Digital Health in Italy
Luigi Boggio Commissioner National Cluster of Life Sciences ALISEI – Member of Presidency Council of Confindustria Dispositivi Medici (Italian Association of Medical Device Manufacturers)
Health Tourism and health mobility in the Lazio Region
Massimo Annichiarico, Regional Director of Health and Social-Health Integration
Smart & Green Hospital – An ongoing project at "Spallanzani" Institute
Francesco Vaia, Director of INMI L. Spallanzani
Clinical research and digital technologies: decentralized clinical trials, DNA sequencing and collaborative research Networks
Francesco Gabbrielli, Director National Centre for Telemedicine and New Healthcare Technologies – Istituto Superiore di Sanità (ISS – National Institute of Health)
Be Close. Be Smart. The importance of being digital for a Local Health Authority. Experiences from ASL Roma 1
Debora Angeletti – Director UOC Information and Communication Systems and Technologies and Head of Digital Transition – ASL Roma 1
The Research Excellence on Smart Health in the Universities of Lazio Region
Stefano Salsano, Professor in the Electronic Engineering Dept. of University of Rome Tor Vergata.
The role of Industry in the development of new technologies in Health
Fabio Miraglia, President of Cluster C.H.I.CO (Cluster of Health Innovation and Community)

Innovative Startup Best Practice
Netabolics – Where artificial intelligence meets the digital twin.
Mauro di Nuzzo Chief Executive Officer at Netabolics SRL
Brain Innovations – Artificial intelligence and wearable sensors for telediagnosis, telemonitoring and personalized therapy in Parkinson's disease.
Lazzaro di Biase Chief Executive Officer and Scientific Director of Brain Innovations Srl, Innovative startup, spinoff of Campus Bio-Medico University of Rome
Medicud – Worthwhile and green medical devices available for all suitable patients.
Antonio D'Angelo CEO & Founder MEDICUD
Voicewise – Artificial Intelligence based voice analysis for prevention and diagnostics of pathologies including: Covid19, Parkinson's, and the analysis of emotional states.
Maria Tavasci Ceo Voicewise Srl, Innovative Startup, Spinoff of the University of Rome Tor Vergata

Wrap Up
           Alessio D'Amato, Regional Minister of Health and Social and Health Inegration of Lazio